Spacetime (x, y, z + t)
Emerson Contemporary Media Arts Gallery
January - March 2020
25 Avery Street, Boston
Read Boston Art Review's article by Jacquinn Sinclair.
Spacetime (x, y, z + t), a multi-dimensional exhibition that features experimental works by regional and international artists: Katherine Mitchell DiRico (US), Monika Grzymala(GER), Nicole L'Huillier (CL), Zsuzsanna Szegedi (HUN), and Sarah Trahan (US)
Curated by Dr. Leonie Bradbury—Emerson's Foster Chair of Art Theory and Practice and Distinguished Curator-in-Residence—the exhibition features digital projections, 3D printed objects, inkjet prints, VR drawings, video, site specific light installation and a dancing robot. In putting together this exhibition, Bradbury considered how our perceptions are challenged and consequently change when artists include a durational element into an otherwise object-based artistic practice. Additionally, Spacetime includes both subtle and dramatic sonic elements that, when combined with drastic scale shifts of the various installations, contribute to a compelling immersive exhibition experience.
The works included in Spacetime (x, y, z + t) investigate the dynamic relationships between objects, their materiality and demonstrate how an idea, object, or artistic concept can 'travel' across time, multiple media and physical locations. Together these five artists' aesthetic experiments offer an exploration of the rapidly changing intersections between the physical and the digital, objecthood and performativity, and expose how the virtual and the real interact in new ways as a result of current technological advancements.
In 1905, Albert Einstein demonstrated that space and time are both relative and integrated and are essentially the same thing: a single unified entity called 'spacetime'. Spacetime is a dynamic entity that fuses the three dimensions of space (x,y,z) and the dimension of time (t) into a single, four-dimensional continuum. In curating the exhibit, Bradbury explored the question of what happens when an artwork becomes an event that exists in the four dimensions of Einstein's concept of 'spacetime' - rather than as an object in space and/or time.
Katherine Mitchell DiRico room-sized installation Stilling Life in the Project Room brings together an assembly of technology, objects, video, movements, and light to question the constructed nature of reality. These materials exist in varying degrees of completion, imploring us to combine their relationships anew each time they transform. Traversing between the virtual and the material, and quite literally between two separate spaces in the gallery, Stilling Life challenges the viewer's ability to locate oneself in time and space. Various materials – light, air, mirrors, reflections– are moving at different rhythms to create a dynamic installation that is always changing, and therefore continually becoming; much like current relationships to the real and mediatized worlds we inhabit.
Katherine Mitchell DiRico, "Stilling Life", 2020
Katherine Mitchell DiRico, "Stilling Life" (live feed), 2020
​Katherine Mitchell DiRico, "Stilling Life" (view from telescope), 2020
Katherine Mitchell DiRico, "Stilling Life", 2020
Katherine Mitchell DiRico, "Stilling Life", 2020
Katherine Mitchell DiRico, "Stilling Life", 2020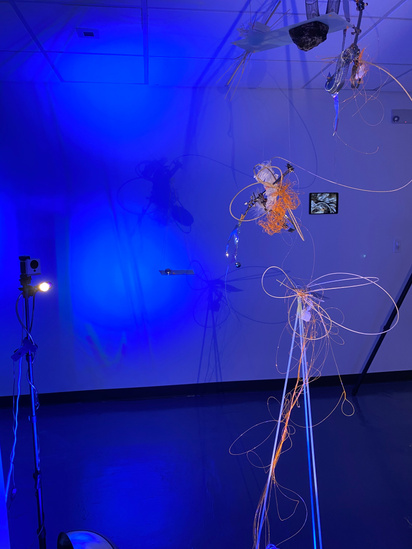 Spacetime (x, y, z + t) Exhibition Installation, 2020