Data Sets Detail, 30' x 10', graphite, thread, pins, magnets, privacy screen, chalk dust, and wood, 2017
Data Sets Detail, 30' x 10', graphite, thread, pins, magnets, privacy screen, chalk dust, and wood, 2017
Data Sets Detail, 30' x 10', graphite, thread, pins, magnets, privacy screen, chalk dust, and wood, 2017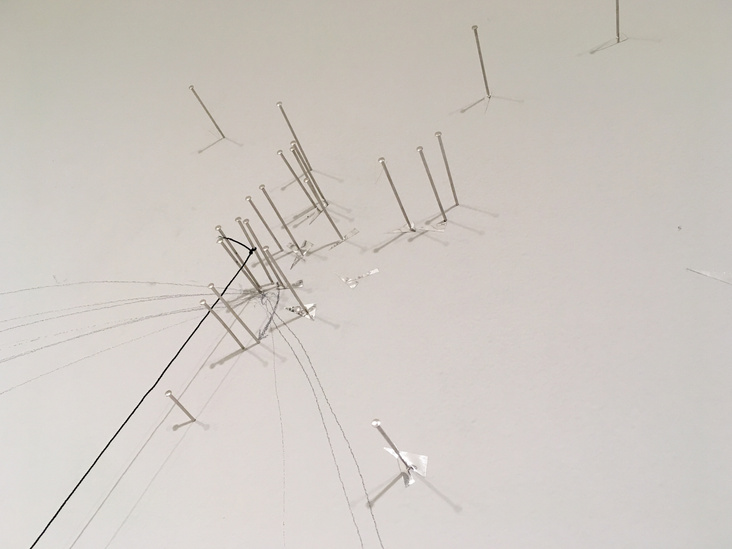 Data Sets Detail, 30' x 10', graphite, thread, pins, magnets, privacy screen, chalk dust, and wood, 2017
Data Sets Detail, 30' x 10', graphite, thread, pins, magnets, privacy screen, chalk dust, and wood, 2017
Data Sets, 30' x 10', graphite, thread, pins, magnets, privacy screen, chalk dust, and wood, 2017
Data Sets explores the way we document and process phenomena of ungraspable scale. In an era when we have seemingly endless access to information, where constant visibility is rewarded, and we are called upon to generate our own data streams, how do we sort, move, pause and omit different variables? Where do we rest? Where does agency and sensory experience intersect with data?
The formal vocabulary implies truth and empirical knowledge (the diagram), however, these works are in fact charts of the ineffable, as if swimming in data sets of intuition. A failed strategy, a re-ordered instruction, a dissolution of a previously articulated method destabilizes the viewer. Are we looking at a diagram or a drawing? A data set or a map? These clusters of activity or "moments" interrogate the authority of diagrams and empirical data, examining how we order and reorder our surroundings, and how every ordering occludes other possibilities. What is the intuitive process of decision making that we exercise within our world of technological information?
Using strategies of scale, perspective, abstraction, minimalism, and movement, these works hint at the false promises of orderly, rational organization of information while giving the body space to engage with data differently: concretely, intuitively, and with a sustained physicality that is rarely found in our everyday life.Like a conversation that unfolds over many hours, or years, the lines suggest the myriad ways that we communicate (or don't) and process information. By choreographing a slowed-down looking process, networks of activity lead to long and graceful silences. An organized set of pins concludes in a tangled mess of knotted string. Diagrams are drawn that don't work, and conversations reach no resolution, referencing our contemporary state of incessant data exchange, visibility, and attempts to connect.