Katherine Mitchell DiRico
Melt (a performance, a residue)

2023
Video: 29 second clip or a 40 second loop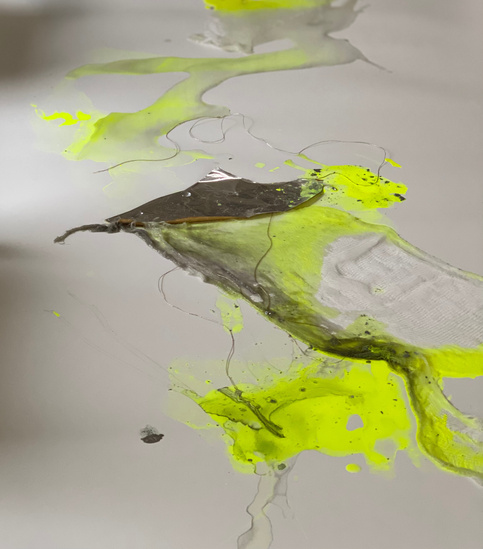 Katherine Mitchell DiRico
Melt (a performance, a residue)
2023
Ink, water, paper, cloth, thread, silver, and pigment on plastic.
3' x 6'
Melt (a performance, a residue)
ongoing
In my work, time functions not as a chronological construct, but as an ever-shifting phenomenon that evades permanence. Like iridescence, which in its geometrically myriad viewing structure promotes multiplicity; time (and space) undulate like a rhizome in every direction, shifting continuously. The use of ice in my work came about recently when I wanted to visualize this process of how the materials coalesce and interact on a surface to leave a trace of movement, or change. I had been thinking quite a bit about deep time, and what it meant to really internalize the scale of a glacier melting. Could I actually feel the scale of that phenomenon? Could I experience its loss? Accustomed already to working with water and various fast-moving materials, ice seemed especially interesting to me because of its pace of movement across a surface. If I slowed down the material interactions, what could I discover?
It was at this moment that I suddenly understood my work differently. In a sense, I design situations in my work where I cannot control the outcome. I set up situations where chance must be an integral part of the outcome, where the materials and I are performing together in space and time. The drawing, therefore, becomes almost secondary; a residue of the action. And it is in this negotiation, that my practice begins to be apparent.
/ Katherine Mitchell DiRico, 2023