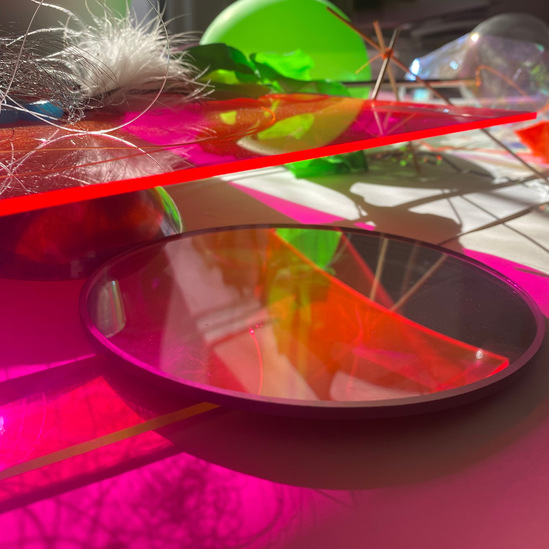 Solo Exhibition
i'll believe in anything for a while
February 11, 2022 - March 13, 2022
"Thankfully for us, DiRico shines when navigating fraught tipping points." -- Boston Art Review. Read the full review by Jessica Shearer here.
Buy the lathe-cut album here. (Only 2 left!)
"...I went around recognizing myself in an idea that suggested general disintegration and, at the same time, new composition" - Elena Ferrante, The Story of the Lost Child (2015)

Praise Shadows Art Gallery is pleased to present the solo exhibition of Boston-based artist Katherine Mitchell DiRico, i'll believe in anything for a while. The gallery will house a site-specific multi-media installation that brings together objects, photographs, sounds, video, and light collected and made by the artist during the last two years of the pandemic. Presented in varying degrees of completion, DiRico develops an aesthetic vocabulary that pulls from everyday family life, her studio practice, and our contemporary moment, to explore the edges of how we hold on to an idea of reality. The result is a profound and multifaceted attempt to make sense of our emergence from the protracted isolation during this pandemic.